Alamos Cuisine
From traditional to elegant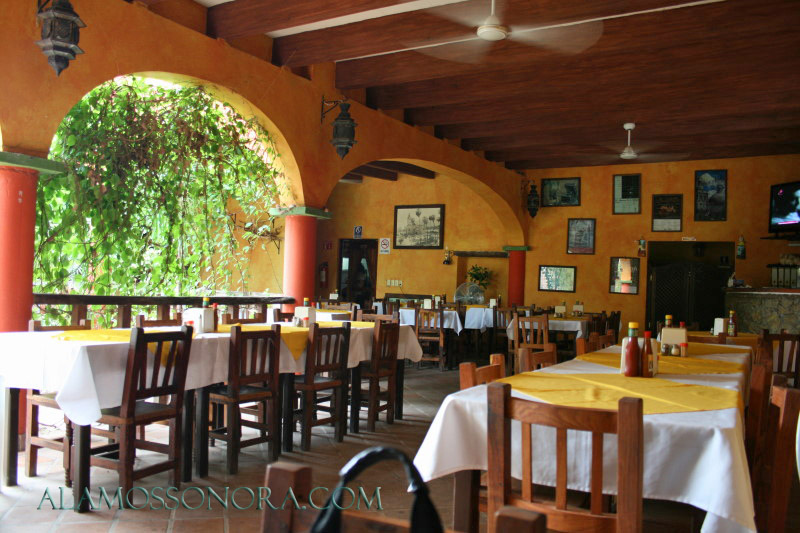 style="display:block"
data-ad-client="ca-pub-7062508861037899"
data-ad-slot="7477242454"
data-ad-format="auto">

You will find a variety of delicious traditional food for which Alamos and Sonora are famous, like the world-renowned Sonoran carne asada. But if you are not in the mood for tacos tonight, you can enjoy a fabulous variety of upscale international cuisine in Alamos, Sonora.
Traditional Mexican Cuisine
Antojitos Mexicanos
Hidalgo #9
+52 1 (647) 114-7000 
Asador La Palma
Galeana #3
+52 (647) 428-0401
Casa de Los Tesoros Restaurant
Located inside the Hotel Casa de Los Tesoros
Calle Obregon #10
+52 (647) 428-0010
Cocina Económica
Sonora Dto. 1
+52 1 (647) 114-8125
Doña Lola Cenaduria – "Koki"s
Calle Volantin
Near the Palacio Municipal
A traditional Alamos favorite
El Mirador Restaurante
On the El Mirador hill
Las Palmeras Restaurant and Bar
Calle Madero #48
West of the intersection of Madero and Galeana
+52 (647) 428-0065
El Papillón
Madero #74
+52 (647) 428-0929
Polo's Restaurante
Calle Zaragoza #4
Near the Plaza de Armas
+52 (647) 428-0003
Restaurant Reyna
Obregón #8
+52 (647) 428-1407
Terracota Restaurante
Terracota Complex
Near the Plaza de Armas
Juárez #8
+52 1 (647) 105-7966
Gourmet and International Specialties
Charisma Restaurant & Bar
Located in the Hotel La Mansion
Calle Obregon #2
Executive Chef Joseph Biggert prepares an enticing blend of local tastes and international flavors
Hacienda de Los Santos
Located in the Hacienda de Los Santos Resort and Spa
Calle Molino
+52 (647) 428-0222
Gourmet international and Sonoran cuisine, reservations required.  
Bistro, Light Meals and Coffee
Café Luz del Sol
Calle Obregon #3
Breakfasts, lunches and specialty coffees
Café Netto
Terracota Complex on Plaza de Armas
Ice cream, coffee, tea and baked goods
Colonial Roasted Coffee
In the Hotel Colonial
Obregon #4
+52 1 (647) 106-4283
Teresitas Panaderia y Bistro
Calle Allende #46B
Next to La Puerta Roja
+52 (647) 428-0142
Coffee, baked goods and light meals
Special Group Meals by Appointment
Rancho Acosta
Located on the edge of town, past the panteon municipal
+52 (647) 428-0077
Gourmet meals at a ranch bed and breakfast for groups of 6 or larger
Reservations required
Rancho El Palomar
West of Alamos
+52 (647) 428-0182
Guest ranch group dinners, reservations required